The Samsung Galaxy A12 is designed as a phone for anyone who puts price and battery life first, because it excels on both fronts – it's one of the cheaper smartphones you'll find, and also has a bigger battery than most at 5,000mAh.
That's not the only reason to consider it though, as the Samsung Galaxy A12 also has a big screen, a quad-lens camera, and other features that are worth knowing about.
But of course at this price there are some compromises too – and whether you can live with them or not will depend on what you need from your phone. Below we'll dive into all of that, so read on to see if the Samsung Galaxy A12 is the smartphone for you.
Screen
The Samsung Galaxy A12 has a 6.5-inch screen, which while smaller than, say, the 6.76-inch Huawei Mate 40 Pro or the 6.8-inch Samsung Galaxy S21 Ultra, is still an above average size for a smartphone screen.
That makes it good for watching videos on – whether short TikTok ones or long Netflix content – as well as for viewing photos, using apps, and playing games.
You don't get OLED at this price, and its resolution is just 720 x 1600, so it's not the sharpest of displays, coming in at 264 pixels per inch, but that's all in line with the price you're paying.
In practice, it's reasonably sharp, so you're unlikely to miss the extra pixels too much, and it's a slight upgrade in both size and resolution on the 6.2-inch 720 x 1520 Samsung Galaxy A10.
Of course, the sizeable screen here does mean that the Samsung Galaxy A12 isn't as compact or easy to use with one hand as some phones, so it won't suit everyone.
Design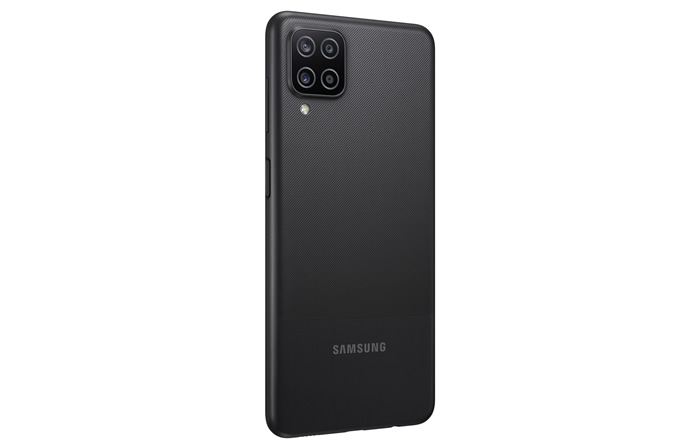 The Samsung Galaxy A12 has a plastic back as you'd probably expect, but as plastic goes it doesn't look bad. It's not particularly pretending to be something more premium, but it has a two-tone finish, with a patterned section on the top two thirds, and a matte finish on the bottom third. It makes for a good and slightly unusual look.
The front of the Samsung Galaxy A12 is rather more ordinary though, with a slightly dated (though small) notch at the top of the screen, housing the selfie camera, and slim bezels around the display, with a slightly larger one at the bottom.
The Galaxy A12 comes in at 164 x 75.8 x 8.9mm and 205g, so it's on the large and hefty side – as we said above, this isn't one that you'll necessarily be able to comfortably use with one hand, unless you have particularly big mitts.
There's also no water resistance rating here, but we'd have been very surprised to see one at what this costs, so that's not really a mark against it, just something to bear in mind.
Power
The Samsung Galaxy A12 is powered by an octa-core MediaTek Helio P35 chipset coupled with 4GB of RAM. That's a fairly low-end spec but one that's in line with the money this phone costs.
Having said that, it's definitely one of the weaker points of the Samsung Galaxy A12. While it should be fine for general day-to-day performance, this isn't a phone that's going to do well for more than casual gaming or other demanding tasks, so think about what you're going to be using your phone for before buying it.
If you need more power on a similar budget, look to something like the Moto G9 Power or the Nokia 5.3. There's also of course no 5G with this phone, but nor is there with any similarly priced rivals.
Camera
The Samsung Galaxy A12 has a quad-lens camera, which is more lenses than you sometimes get at this end of the market. It's also substantially more than, say, the Galaxy A10.
That said, it's not quite as generous a setup as it might at first appear, as those cameras include a 2MP f/2.4 macro one, which isn't up to much, and a 2MP f/2.4 depth sensor, which is more about adding a bokeh effect to snaps than being a dedicated lens – though that is at least a useful feature.
The camera star here is the 48MP f/2.0 main snapper. Even without the extra cameras, that would be a lot of megapixels for this money. And for the most part it performs pretty well, as long as you keep your expectations in check. This thing will struggle with low light, motion, and most other tricky photography situations, but with decently lit scenes you can get decent results.
There's also a 5MP f/2.2 ultra-wide camera, which probably isn't something you'll use much given the low megapixel count, but it's nice to have for when you want to fit more in a scene. Finally, there's an 8MP f/2.2 camera on the front for your selfie needs, and the ability to record 1080p video at 30 frames per second – both of which are fairly standard at this end of the market.
Features
Being a basic phone there's not much to talk about on the features front for the Samsung Galaxy A12. It runs Android 10 at the time of writing, so its software is one generation behind, but Android has reached the point where the new versions don't typically add a lot, so that's not a huge problem.
The Samsung Galaxy A12 also has a 3.5mm headphone port, which is notable only because this is becoming increasingly rare on phones. If you've migrated to wireless headphones then it won't much matter, but those who still have wired ones will likely appreciate its presence.
There's also a fingerprint scanner, but this is side-mounted rather than being in-screen or anything fancy. Still, the side of the phone is a generally good position for non-in-screen fingerprint scanners, as it means there's no need to have a large bezel or button on the front to house it, and it's more consistently accessible than a scanner on the back (which could be obscured when you put your phone down).
Battery life, memory, and connectivity
The Samsung Galaxy A12 has a huge 5,000mAh battery. That's one of the biggest you'll find in a mainstream phone – a few have now pushed their way to 6,000mAh, but most don't go above around 4,500mAh, and many still hover around 4,000mAh or even less.
In practice this large size means you can get up to around 20 hours of web browsing or 21 hours of video on a single charge, which in real terms means the Galaxy A12 will comfortably last a day and may even stretch to two for lighter users, which is well above average for battery life.
Charging is done at a respectable 15W. That's classed as fast charging, and while many pricier phones have double the charging power or more, you still won't be waiting around all day for this to juice up. Of course, there's no wireless charging here.
For memory, you get 64GB built in. There are other storage capacities, but they don't seem to be widely available in the UK. Still, 64GB is decent at this end of the market, and what's even better is that there's a microSD card slot with support for cards of up to 1TB, so you can massively build on the included storage.
Connectivity options meanwhile include 4G, Bluetooth 5.0, and NFC – there's no 5G, but that tech is yet to make its way into any phones this cheap.
Verdict
The Samsung Galaxy A12 is a rock-solid budget phone with great battery life and a big screen. That makes it a good media machine even when away from a charger. It also has a stylish (if plastic) design, reasonable camera performance, and expandable storage.
Fans of wired audio are in luck too, and of course this is a tremendously affordable phone, which is one of its main selling points.
It lacks a bit for power, and some of its camera lenses are more useful than others, but these should be acceptable compromises for the price. That said, if you care more about, say, power than battery, there are better options, it all depends on what your priorities are. But to get it all you'd have to spend a fair bit more.
Source link