Kenyans have been warned against buying second hand mobile phones they know very little information about as it could land them in trouble with the law.
"Don't buy a device of a fellow murdered or maimed Kenyan. When police forensically investigate and find you in possession of such said devices, by the time it is established that you were not involved in the crime, you may have suffered immensely," warned the Directorate of Criminal Investigations (DCI).
"Being found with suspected stolen property, you suffer immediate consequences of the actual criminal, which may escalate to death sentences," the statement released in October 2019 reads in part.
This is made possible due to the fact that one can buy a second-hand phone that had been stolen from a shop, or worse, a victim of robbery with violence, resulting in a murder trial.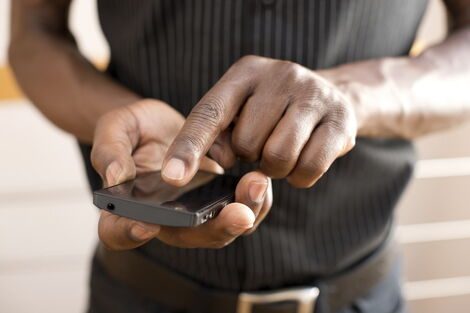 File image of a man using a phone
Twitter
On March 5, 2021, two men (a student and a tout) were arrested after being caught in possession of a smartphone belonging to Caroline Wanjiku Maina, a 38-year-old Nairobi businesswoman who was kidnapped and murdered by unknown assailants on February 12. 2021. 
The two were in possession of cell phones that detectives had been tracing as they had previously been paired to the trader's SIM cards through online communication and transactions.
On August 14, 2020, A businessman who bought a Ksh 125,000 stolen phone for Ksh 25,000 was charged with theft and handling stolen property at the Kibera law courts.
Contrary to popular belief lashing stolen phones, also known as hard or master resetting, does not prevent its recovery or tracking as it simply translates to deleting the previous user's data.
How Kenyan police track stolen phones?
The phone is tracked by a system to find its exact location. The phone sends a signal to the nearest mobile tower which is then stored in the service provider's database.
For this to happen, the phone needs to be on.
Several streets in Nairobi are famous for harboring dealers in this particular type of second-hand phone.
Walking along Tom Mboya Street or Moi Avenue, one is likely to run into shady characters who try to woo them with expensive smartphones retailing at an unbelievably low price.
This is the number one clue that one is either about to get conned or purchase a phone that could be linked to a violent robbery incident.
In October 2020, DCI officers recovered 169 assorted mobile phones that have been stolen from Nairobi residents. This was revealed after a successful operation meant to address cases of mugging in the capital.
This recovery came a few months after the DCI launched a probe into an incident that had three suspects arrested with 525 phones in their possession.
The 525 handsets, the majority of which were smartphones, were seized from a shop in Muthurwa area.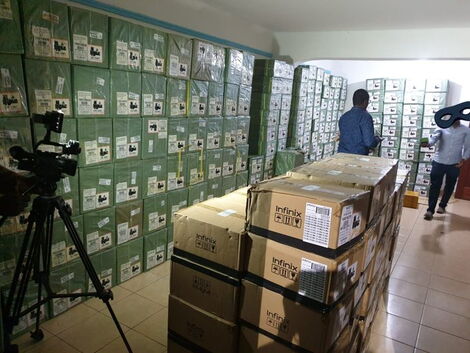 Stolen mobile phones recovered by the DCI on April 13, 2020.
Twitter
criminal death violence stolen murder arrest probe suspect