The Communications Authority of Kenya (CA) on Wednesday, March 24 published draft regulations that will see dealers who sell mobile phones with poor battery performance face jail terms and substantial fines.
The proposed laws aim at eliminating sub-standard products from the market provide and provide for a jail term of three years or a fine of Ksh300,000 or both for those found importing or selling mobile phones that have a battery life of less than eight talk hours.
According to the CA, the battery for a mobile cellular device should offer at least eight hours of talk time and twenty-four hours of standby time.
Mobile phones and sim cards found at the home of a robbery suspect in Mumias West, Kakamega County on April 8, 2020
Twitter
While speaking to the Business Daily, CA acting director general, Mercy Wanjau, said that the regulation aimed at promoting the quality of service provided by network operators and protecting the interests of the consumer.
"In the event that non-compliant devices are submitted for type-approval, the Authority shall decline providing the requisite authorisation for importation of such equipment into the Kenyan market," Wanjau said.
In 2012, in a similar plight to curb sub-standard items in the market saw thousands of handsets switched off for lacking authentic International Mobile Equipment (IMEI) numbers.
According to the Anti-Counterfeit Agency (ACA) nearly 75 percent of Kenyans used fake goods in 2019 with mobile phones being the most counterfeited goods in the country.
The number of counterfeit phones in the market with low battery life has been steadily increasing over the years due to demand for pocket-friendly smartphones.
"A mobile cellular device shall be fitted with a suitable and appropriate power supply cord and mains plug that meet the standards established by the regulatory body in charge of electricity in Kenya," the draft Kenya Information and Communications Regulations,2010 says.
Speaking on March 24, consumer lobbies welcomed the CA's initiative since many phones do not retain power for long.
"This is a nightmare to a majority of consumers who have to charge their phones for long, in the process spending more time on charging as well as not being able to move with their phones. CA needs to liase with the Kenya Revenue Authority (KRA), the Kenya Bureau of Standards (KEBS) and the Kenya Ports Authority (KPA) to block further flooding of the market with fake phones especially those with bad batteries," the secretary general of the Consumer Federation of Kenya (COFEK), Stephen Mutoro, said.
In addition to cracking down dealers selling phones with poor battery life, the regulator also want all mobile phones to comply with global radiation safety standards to protect the health of users.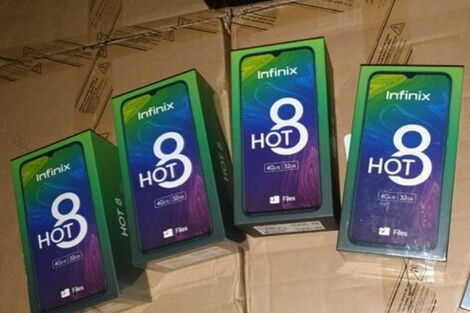 Some of the stolen mobile phones recovered by the DCI on April 13, 2020.
Twitter
crash stolen suspect