The best Samsung phones encompass everything that Androids have to offer, from mighty flagships to surprisingly full-featured budget devices. Whether it's the inexpensive Galaxy A32 5G or the expansive (and expensive) Galaxy Z Fold 3, Samsung has an option at every price. 
Samsung may be skipping out on a Galaxy Note model this year and the status of the rumored Galaxy S21 FE remains a mystery, but we've seen plenty of new contenders for the title of best Samsung phone in 2021. Samsung's rolled out three new Galaxy S flagships, Galaxy A midrange phones and two foldable devices that are among the best the company's ever released. You'll certainly find some of the best phones overall among Samsung's offerings.
It all comes down to figuring out what kind of phone you're looking for and how much you're willing to pay. No matter what the answers to those questions are, there's likely a device for your needs among the best Samsung phones.
What are the best Samsung phones?
The Galaxy S21 Ultra is Samsung's ultimate smartphone at this point. The Galaxy S21 and Galaxy S21 Plus are both impressive phones in their own right, with dynamic displays, fast processors and lower price tags compared to last year's S20 models. They're just as deserving a place in the debate over the best Samsung phone.
There are cheaper options, still, especially with the launch of the Galaxy A52 5G and Galaxy A32 5G. Last year's Galaxy S20 FE also remains a popular option for getting flagship features at a lower price, though a new version could be coming before the end of the year. Both of these are excellent back to school options, with Samsung's three-year update promise to back them both up.
As for Samsung's foldable phones, we've had a chance to review both the Galaxy Z Fold 3 and Galaxy Z Flip 3. The former is the more impressive addition to Samsung's phone lineup, thanks to a giant screen that offers a 120Hz refresh rate. But the Galaxy Z Flip 3 is still a compelling option, thanks largely to its lower price tag. You can now order a customized version of the Z Flip 3 where you get to pick your own color combination, if you're willing to pay a little bit more.
The best Samsung phones you can buy right now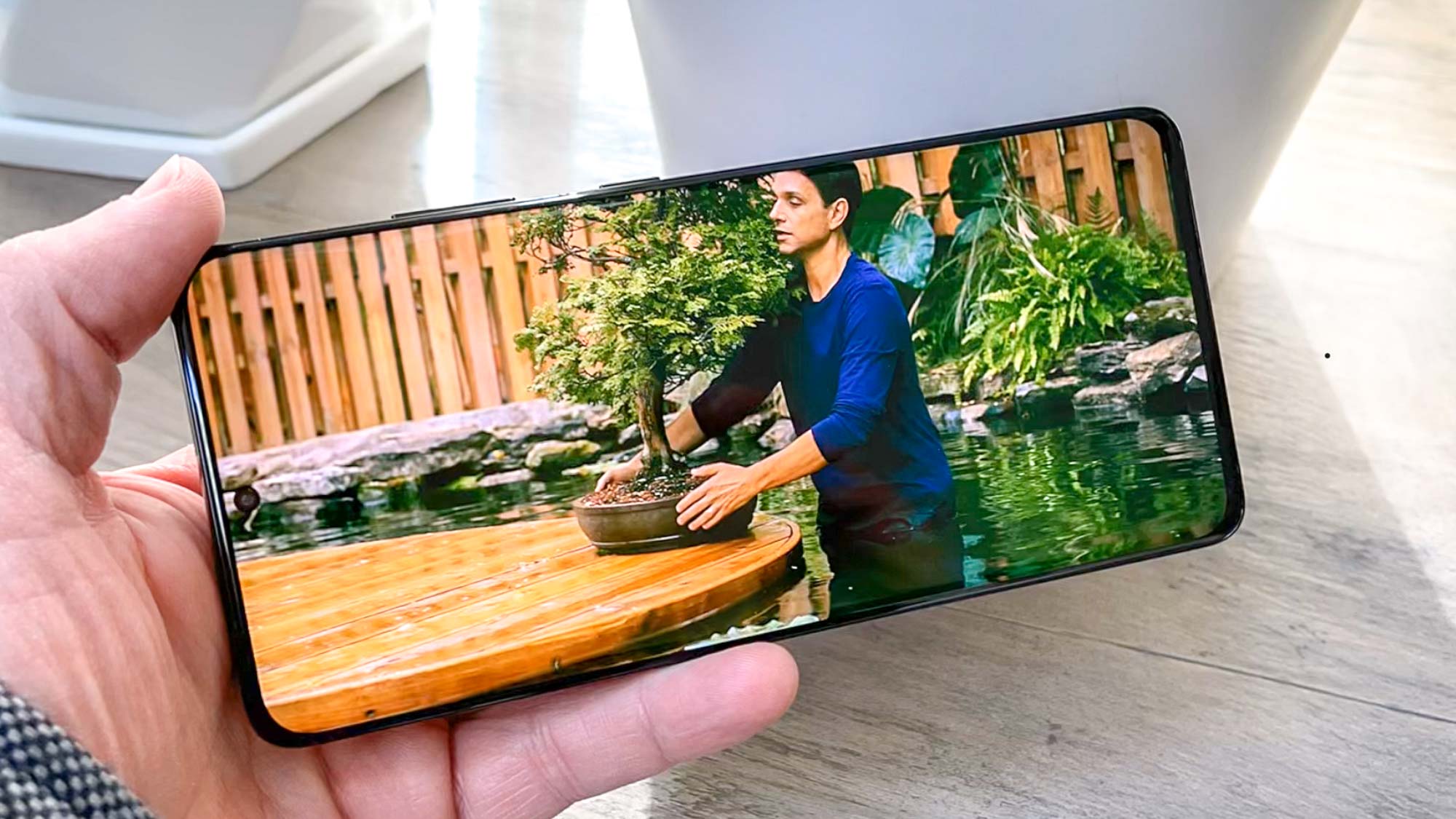 The Samsung Galaxy S21 Ultra takes its spot at the top of our best Samsung phones list for a number of reasons. Start with the Snapdragon 888 system-on-chip, which powers the U.S. version of the phone, which gives the best performance results we've seen from an Android device. We also appreciate that the S21 Ultra is the first phone outside of Samsung's Galaxy Note lineup to support the S Pen, giving your productivity an added boost.
But a couple of features really stand out from those selling points. The Galaxy S21 Ultra features a dynamic display with a refresh rate that can scale between 10Hz and 120Hz, depending on what you're doing. (Tasks like scrolling get the faster refresh rate, while more static activities get a battery-saving speed.) You'll find two telephoto lenses on the back of the S21 Ultra — one with a 3x zoom, the other capable of a 10x zoom — cementing Samsung's place as the phone maker that handles zooms lenses the best.
The Galaxy S21 Ultra remains a pricey phone, but it's debuting at $200 less than the Galaxy S20 Ultra cost when it arrived in 2020. If you want the best features Samsung offers, snap up this device right away.
Read our full Samsung Galaxy S21 Ultra review.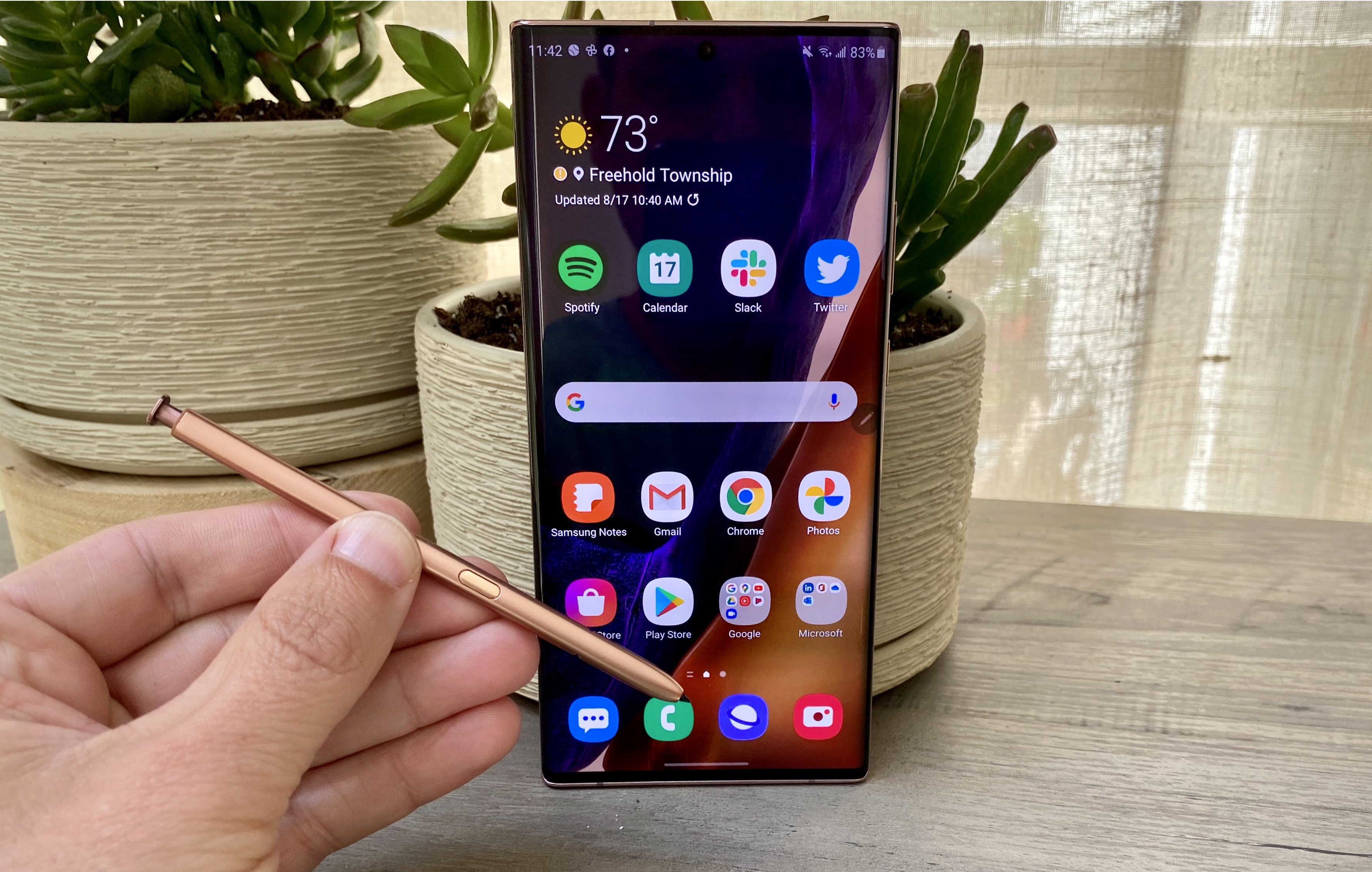 It's been more than a year since the Galaxy Note 20 arrived, and it's since been supplanted as the best Samsung phone by the Galaxy S21 Ultra. Still, the Galaxy Note 20 remains a great choice for phablet fans given all the advances Samsung introduced in this model. 
One of the most eye-catching features on the Galaxy Note 20 Ultra remains the phone's dynamic refresh rate that automatically adjusts based on what you're using the phone for. There are other productivity-minded features, too: The S Pen is more responsive than ever, with latency reduced to 9ms, and unlike the S21 Ultra and Galaxy Z Fold 3, the Note 20 Ultra includes a slot for the S Pen. The phone is also powered by the Snapdragon 865 Plus, which is still an excellent chipset even after the Snapdragon 888's arrival.
The Note 20 Ultra's hefty camera bump takes some getting used to, and people who balk at paying four figures for a smartphone will want to look elsewhere. But the Galaxy Note 20 Ultra delivers one of the most versatile big phone experiences of any Samsung handset. With no new Note coming in 2021, the Note 20 Ultra remains the best phablet you can get — and a less expensive alternative to the newer Galaxy Z Fold 3.
Read our full Samsung Galaxy Note 20 Ultra review.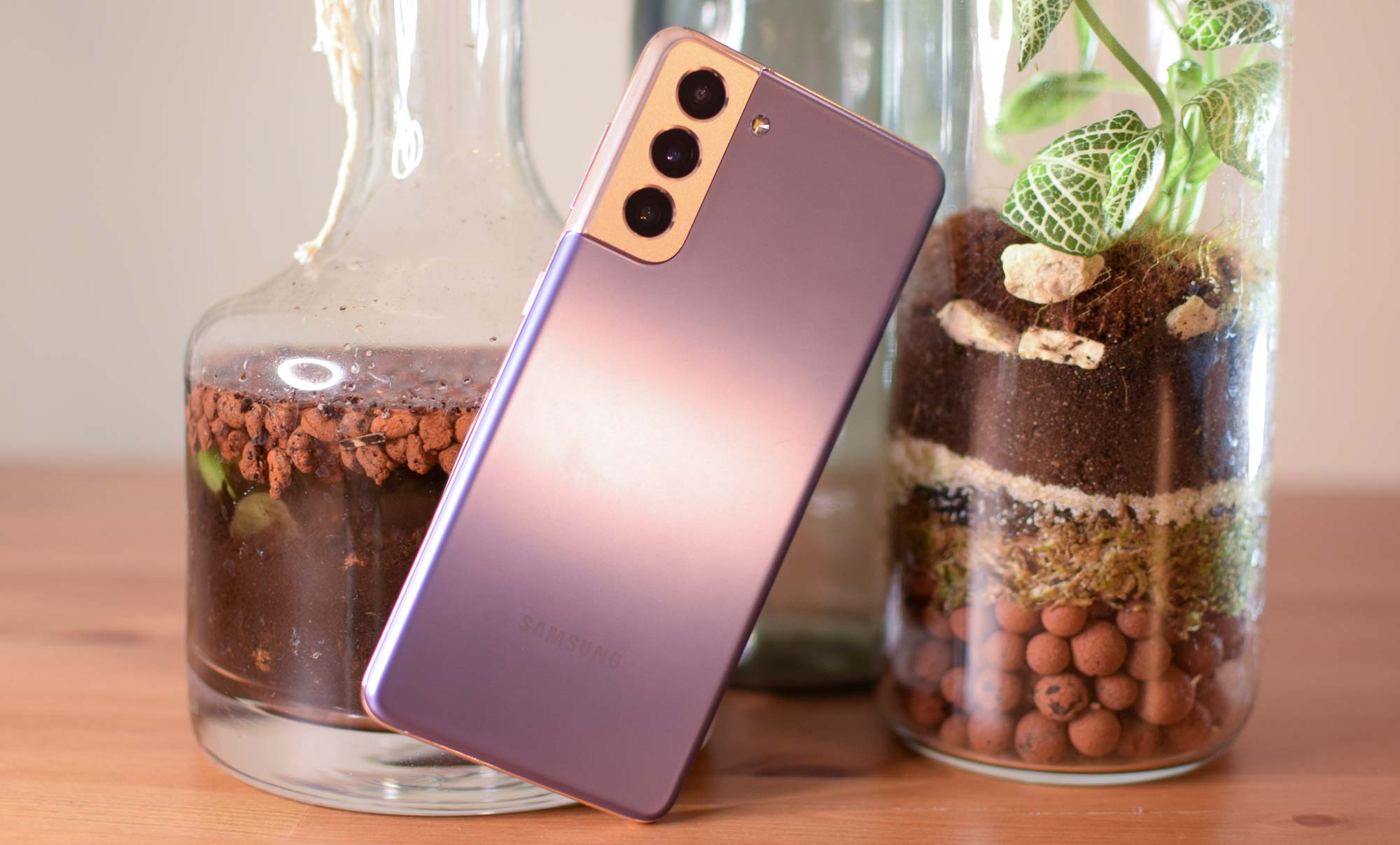 The price is right for the Galaxy S21, the least expensive of the 2021 Samsung flagships. At $799, the Galaxy S21's starting price is $200 less than what Samsung charged for last year's Galaxy S20. That price also compares well to Apple's iPhone 12.
In some ways, the feature set reflects that lower price, as Samsung uses plastic for the case on the S21 and leaves out a microSD card. You'll also have to deal with a 6.2-inch screen with scaled-back resolution. But that display also has a dynamic refresh rate, altering the speed at which the screen refreshes based on the task on hand. And the Galaxy S21 has the same Snapdragon 888 chipset that powers the S21 Ultra to the best performance for an Android phone.
Throw in excellent cameras that fare well against comparable models from Apple and Google, and you've got a great phone for a less astronomical price.
Read our full Samsung Galaxy S21 review.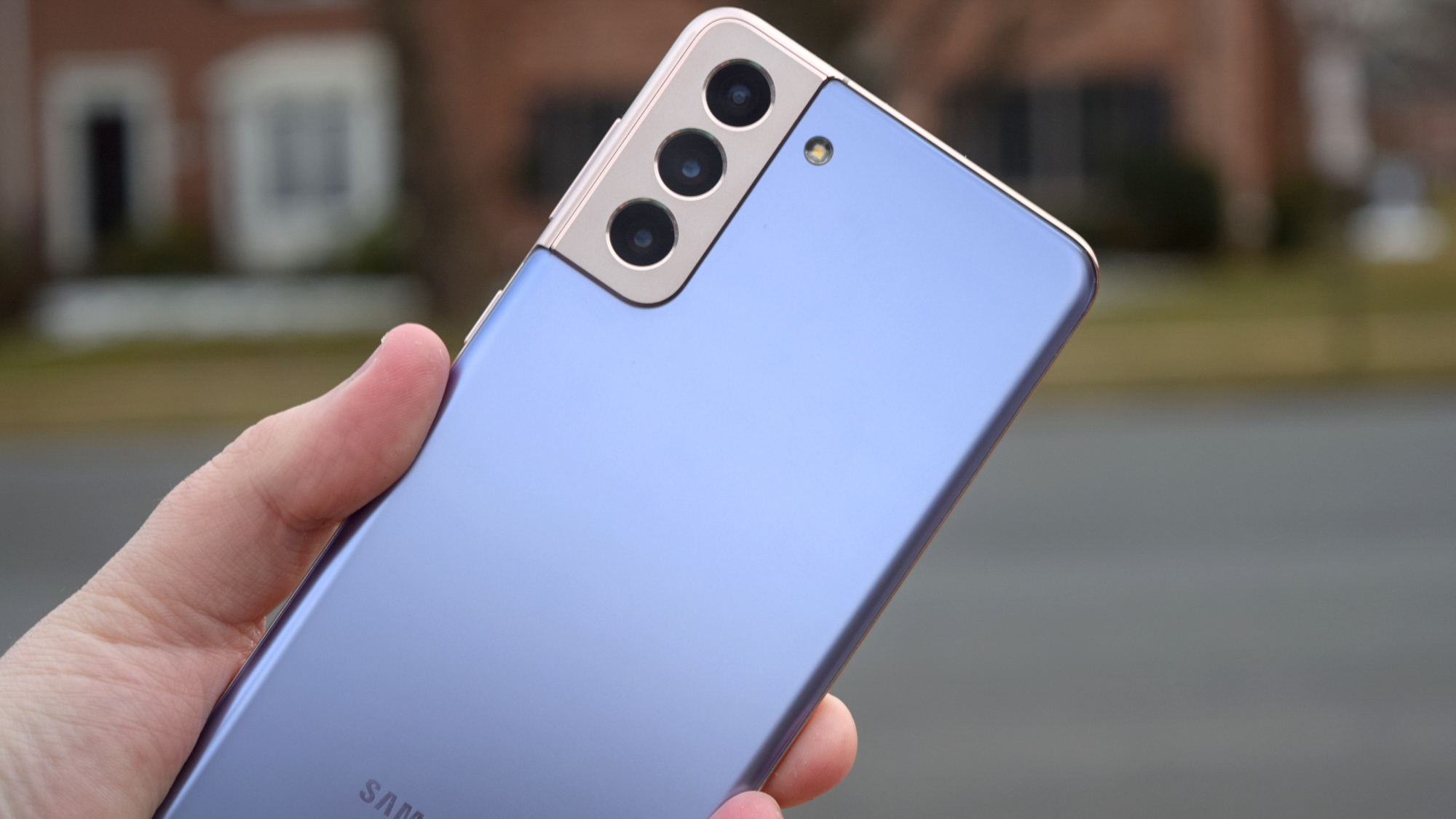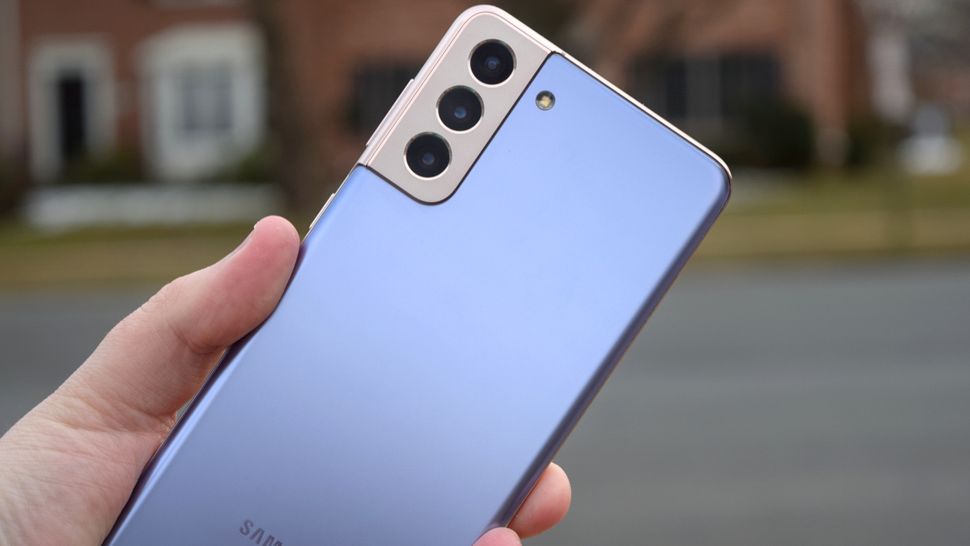 There's not much separating the Galaxy S21 Plus from the Galaxy S21, though the former phone offers a larger screen, bigger battery and a more polished design than the less expensive S21. Whether that's worth the extra $200 depends on how you feel about extra screen space, as the S21 Plus lasted about as long as the S21 on our battery test even with the larger power pack.
You will get an excellent phablet if you opt for the Galaxy S21 Plus, particularly when it comes to the 6.7-inch OLED panel. That's because like other members of the S21 family, the Plus' screen has a dynamic refresh rate that adjusts based on what you're using the phone to do. (It matches the S21's 48-120 Hz range.) Cameras are also excellent, particularly the Galaxy S21 Plus' telephoto lens, which features a 3x optical zoom and a 30x zoom digital zoom.
Fans of big phones won't mind how bulky the Galaxy S21 Plus can be. They'll just be happy to have a solidly designed phone that gives them the display real estate they demand.
Read our full Samsung Galaxy S21 Plus review.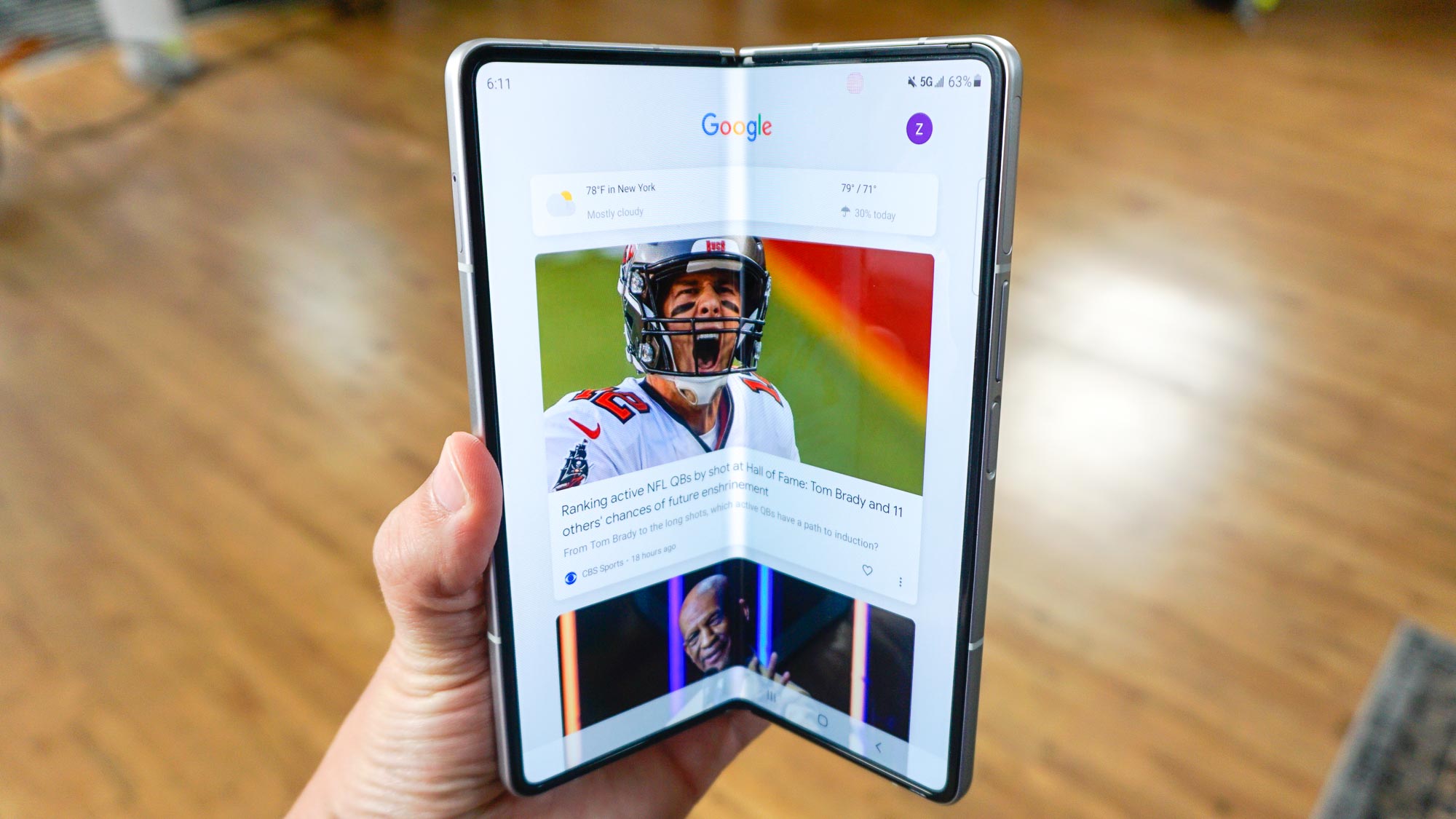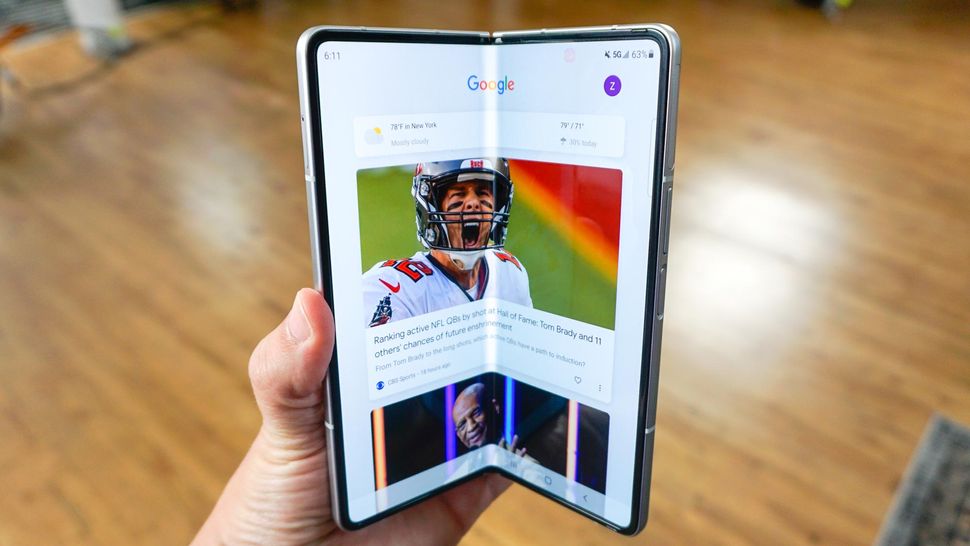 Samsung's premium foldable phone remains the Galaxy Z Fold 3, especially now that the new version has added 120Hz displays both inside and out. What's more, the new Galaxy Z Fold 3 is more durable than ever, thanks to an IPX8 water resistance rating, The Armor Aluminum body is stronger than before while the phone's use of a Gorilla Glass Victus display should reduce the likelihood of scratches and other damage.
One of the best things Samsung did was to convince more app makers to optimize their software to work with the Galaxy Z Fold 3's foldable display. You'll see popular apps like Spotify and TikTok now take advantage of the Z Fold 3's unique form factor. Samsung added S Pen support, too, and while the main display certainly gives you a lot of real estate for sketching and taking notes, it's a shame the stylus is an optional accessory (meaning you'll have to pay extra to pick up both an S Pen and a case for holding the stylus).
Battery life on the Galaxy Z Fold 3 could be better, and while the debut price is lower than what it was for the Galaxy Z Fold 2, $1,799 is still a lot to pay for the phone. Nevertheless, if you want a premium device that gives you plenty of screen to work with, the Galaxy Z Fold 3 is the best Samsung phone yet to offer a foldable display.
Read our full Samsung Galaxy Z Fold 3 review.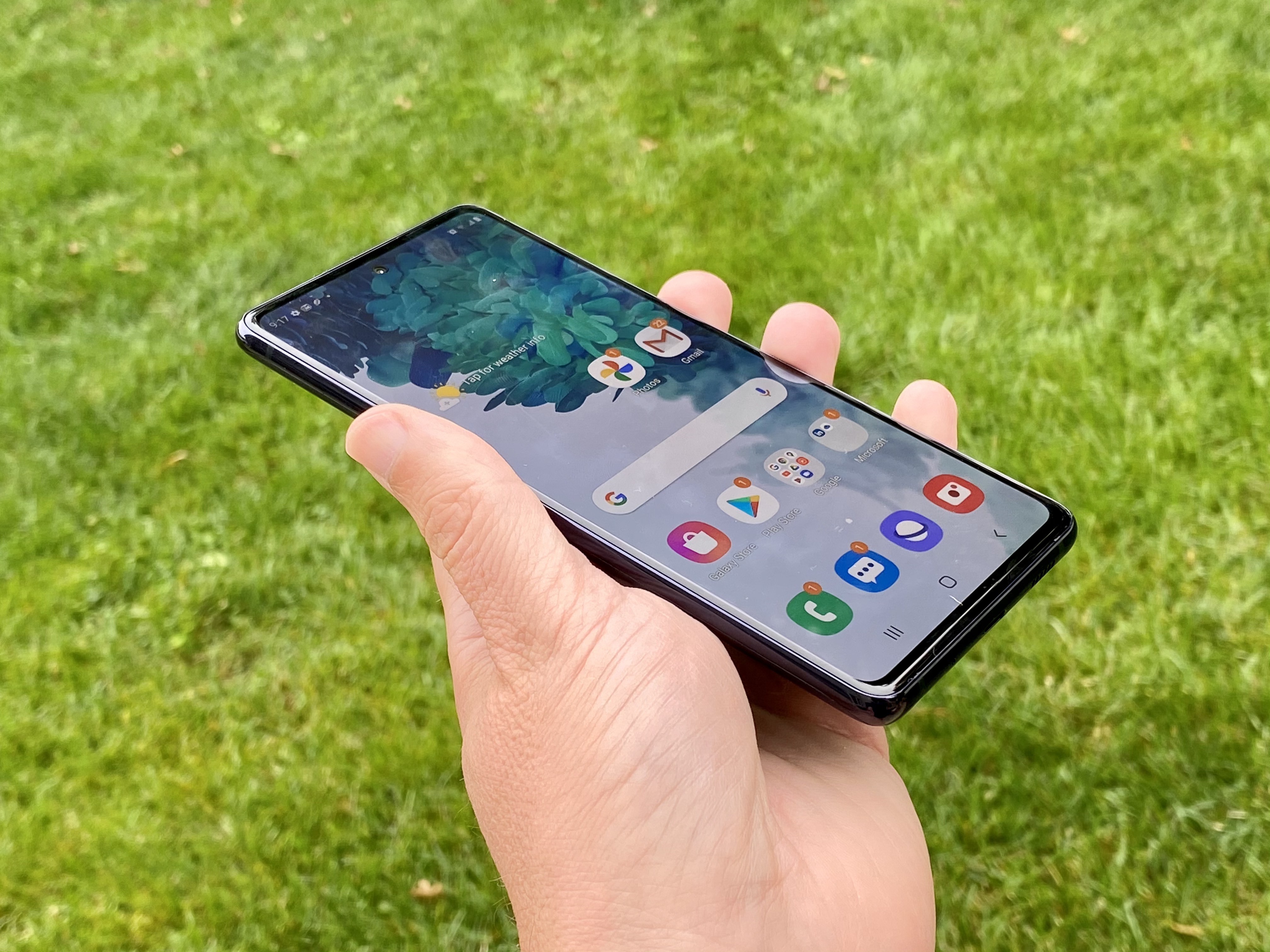 Maybe you were impressed by the different Galaxy S20 models that debuted in 2020, but you were put off by the fact that they cost $999 or more. The Samsung Galaxy S20 FE can alleviate that sticker shock by packing in many of the best features in the S20 but for $300 less. It compares well to a number of phones, including Apple's latest models, as we found in our Samsung Galaxy S20 FE vs. iPhone 12 face-off.
This $699 phone runs on a powerful Snapdragon 865 system-on-chip with 5G connectivity. Its 6.5-inch OLED display features the super-fast 120Hz refresh rate that makes for smoother scrolling. And while its 8MP telephoto lens isn't as sharp as the 64MP lens on the S20, we're still impressed by the Space Zoom feature.
You'll make some tradeoffs with the Galaxy S20 FE — the phone features a plastic case and its included charger isn't as fast — but this is a great phone for people who want premium features at a reasonable price. At $100 less than the Galaxy S21, it's still a good value unless you have to have the Snapdragon 888. A rumored successor, the Galaxy S21 FE, doesn't look like it's going to materialize this year, so the Galaxy S20 FE remains the best way of getting flagship features for less.
Read our full Samsung Galaxy S20 FE review.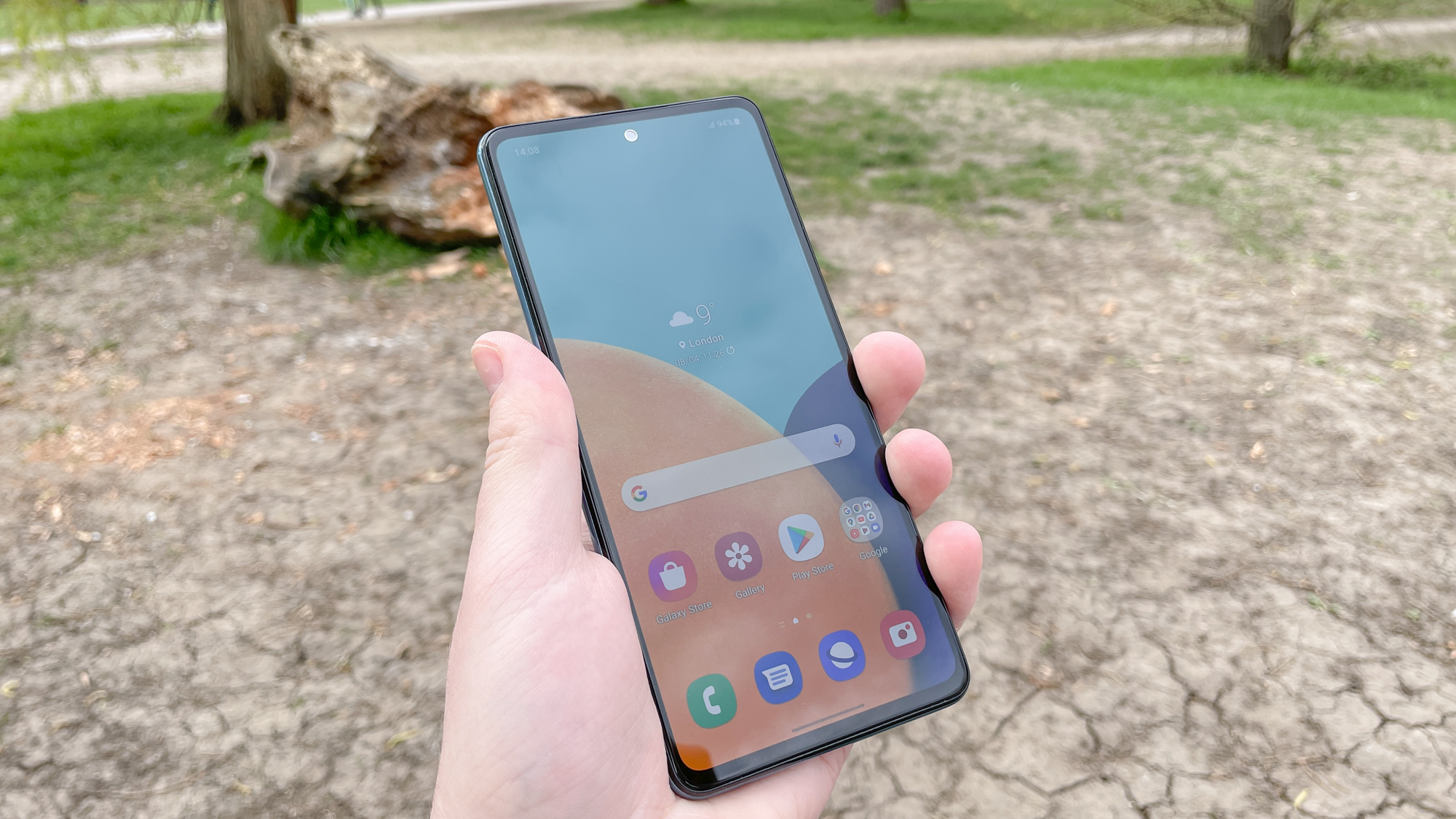 Samsung's midrange phone lineup is currently led by the Galaxy A52 5G. (That's the case in the U.S., at least, where the Galaxy A72 5G won't be shipping.) Despite a lower price tag than the Galaxy S series, you'll find a lot of the key features that highlight those phones. Samsung includes a 6.5-inch display with a 120Hz refresh rate, though there's no dynamic adjustment for the Galaxy A52 5G's screen.
The main 64MP lens takes some pretty compelling shots, even if the other cameras on the phone (a 12MP lens plus dedicated macro and depth sensors) can't keep pace with the photos produced by top camera phones in this price range. You will appreciate the A52 5G's Snapdragon 750G chipset, its hearty battery life and the fact that a phone charger ships with the phone.
If you're looking for a Samsung phone for less than $500, the Galaxy A52 5G is a pretty solid choice, though the Galaxy A42 and A32 go even lower on price. (See how these phones stack up in our Galaxy A52 5G vs. Galaxy A42 5G vs. Galaxy A32 5G comparison.)
Read our full Samsung Galaxy A52 5G review.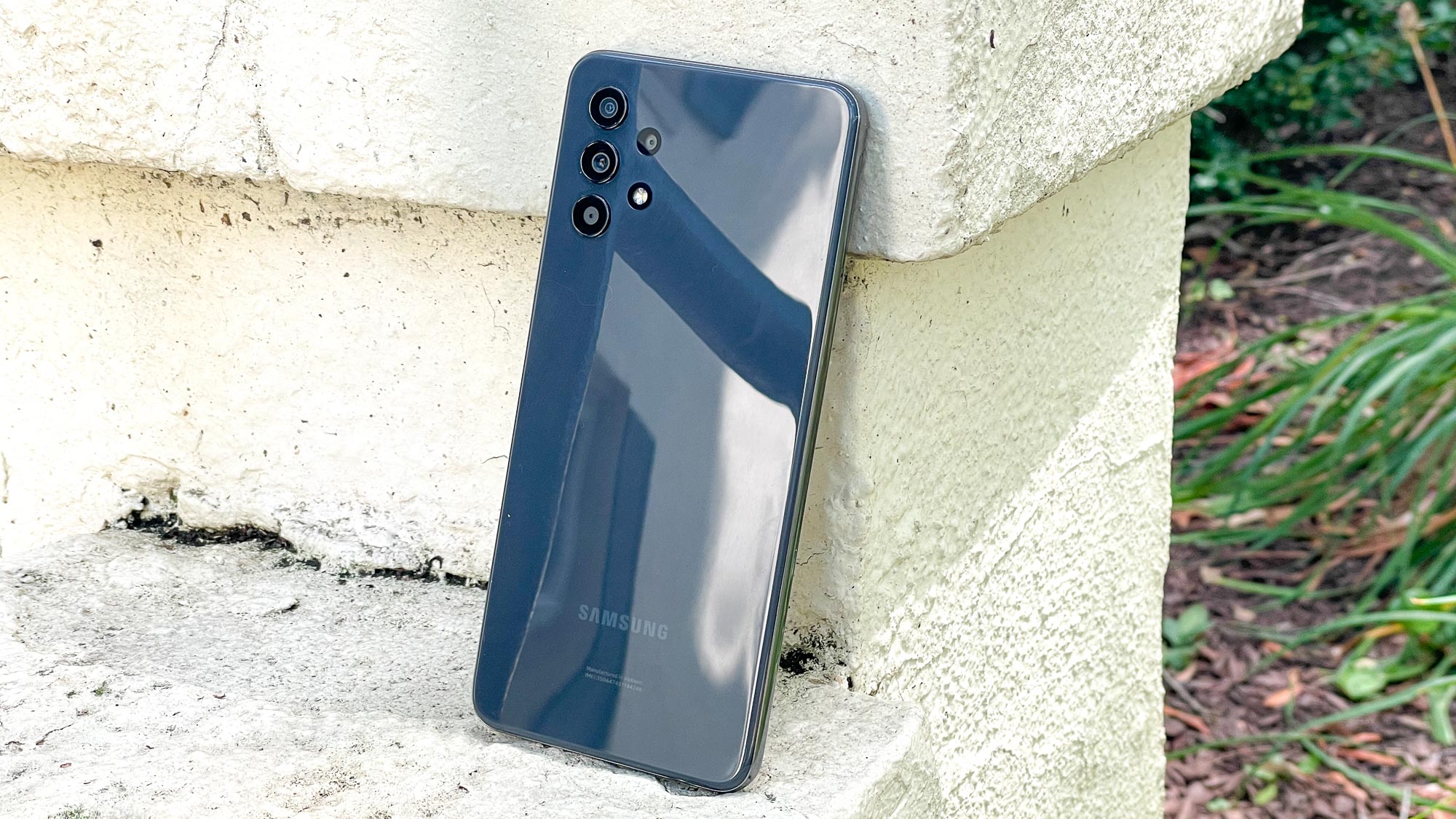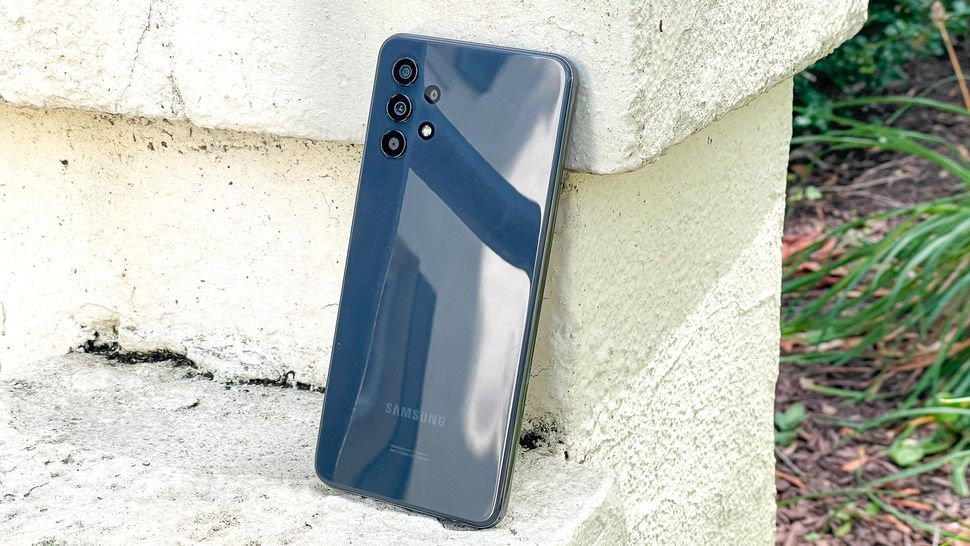 Samsung isn't resting on its laurels with the affordable 5G smartphone market. Cue the Galaxy A32 5G, a sub-$300 5G-capable smartphone. It sports many things people love about Galaxy phones, but with some corners cut to keep the price down. The biggest downside is the underwhelming display. The size combined with the low resolution doesn't look great in person.
However, if you're strapped for cash and want a phone with decent cameras, the Galaxy A32 5G is one you should consider. With its big 6.5-inch screen, the A32 is not a small phone. But it packs a 5,000 mAh battery that lasts a really long time — almost 12 hours in our testing with its adaptive refresh rate enabled. You can also expect the Galaxy A32 to go for longer than many other budget options, with Samsung promising three years of Android updates and four years of security patches.
Read our full Galaxy A32 5G review.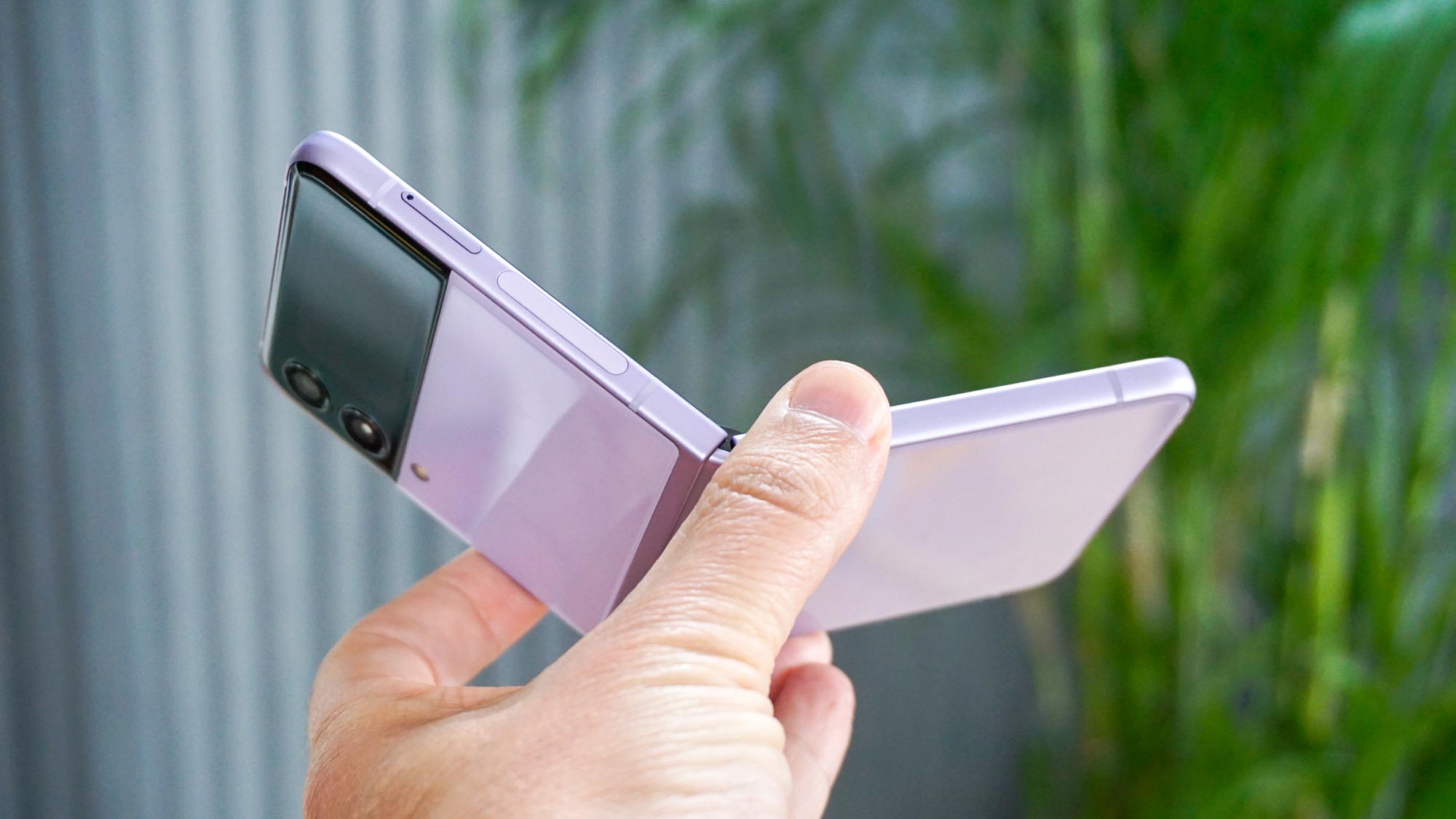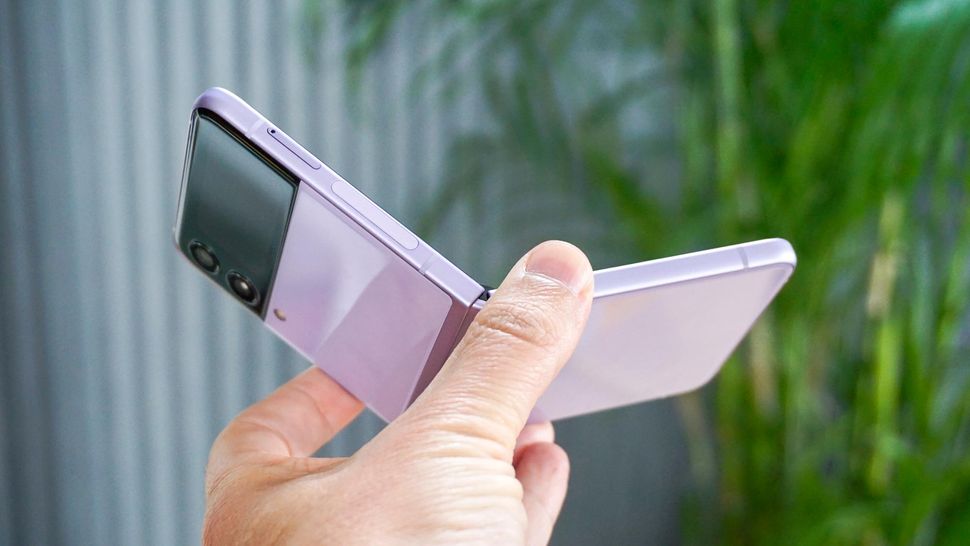 The Galaxy Z Flip 3 is the first "affordable" foldable phone. Starting at $999, it offers top-end specs and the ability to fold in half horizontally. This makes for a very pocketable device that packs a serious punch. 
That said, the Galaxy Z Flip 3 has notable flaws, such as its short battery life. In our testing, it lasted for just 6 hours when the display was locked at 60Hz. And the Flip 3 lacks a telephoto lens, unlike other phones at this price range. But the Galaxy Z Flip 3 is a novel thing.
The phone can become even more novel if you opt for the Galaxy Z Flip 3 Bespoke Edition. This $1,099 version lets you choose the colors of the frame as well as the front and back panel — there are 49 color combinations in all. Samsung bills this option as a way to add your own unique flair to an already unique-looking device.
Read our full Samsung Galaxy Z Flip 3 review.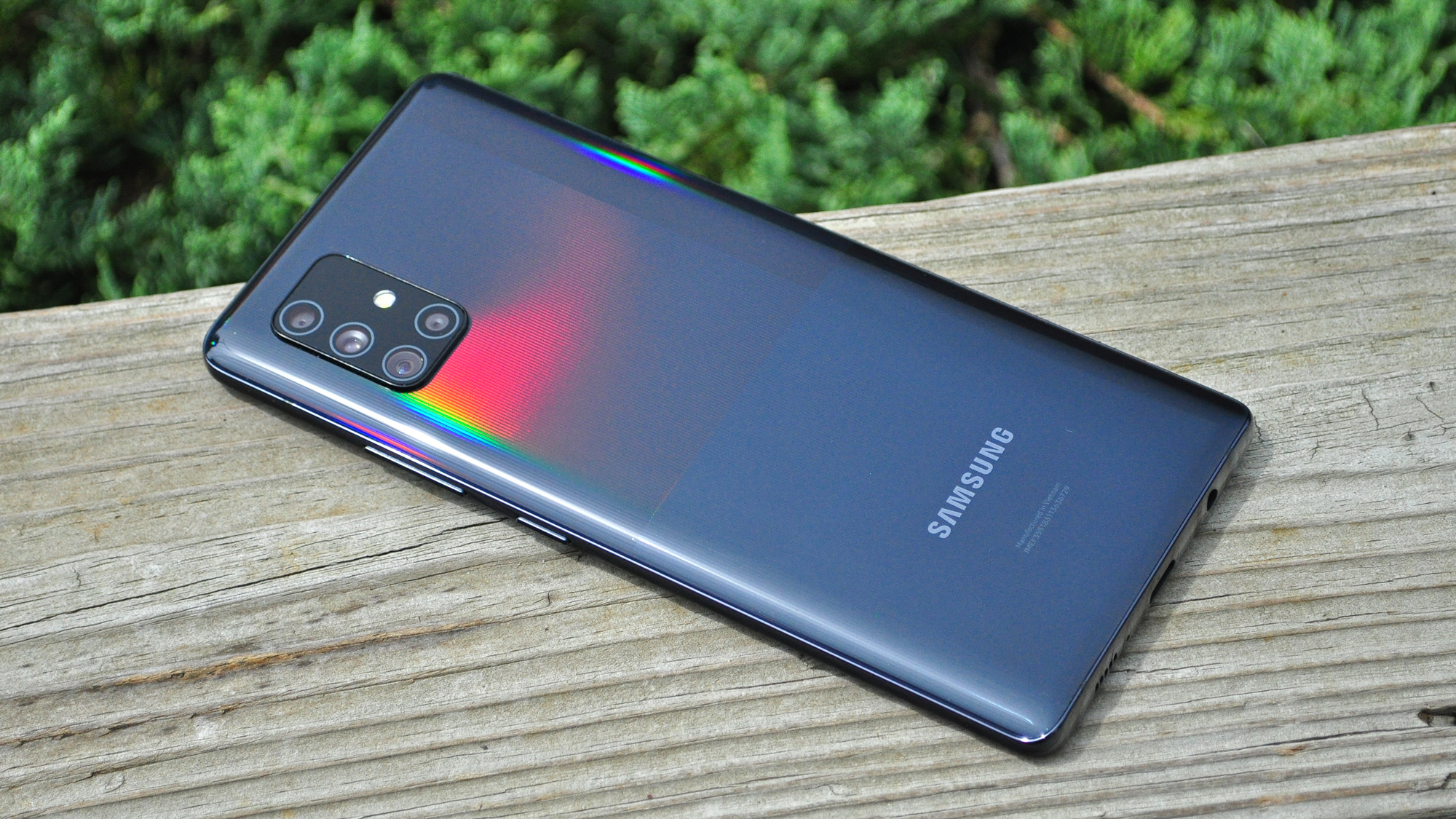 You might have forgotten about the year-old Samsung Galaxy A71 5G, especially since Samsung has launched the Galaxy A72, which promises newer hardware, even if it lacks 5G connectivity. But the A72 won't be headed to the U.S. — it's too similar to the Galaxy S20 FE, Samsung's decided. That means the A71 5G is still an option in this country, especially since its price has fallen from the original $599 cost and it remains available from both carriers and retailers.
The Galaxy A71's launch price was already pretty low for a 5G phone, so anything below $599 is an even better value. That's especially true, when you consider that the A71 5G offers good battery life, decent performance and — most importantly — connectivity with all kinds of 5G networks. You'll also appreciate the big, 6.7-inch OLED screen, which reinforces the idea that you have big screen options beyond the pricey Galaxy Note series.
Read our full Samsung Galaxy A71 5G review.
How to choose the best Samsung phones
Picking which Samsung phone to buy is primarily driven by budget considerations. You're not going to spring for a Galaxy S21 Ultra, for example, if you're not prepared with at least $1,199 even if you opt to spread those payments out over time. But other factors need to be taken into consideration as well.
Start with how you use your smartphone. If it's primarily a productivity device, you'd want to focus on the Galaxy Note lineup, specifically because of the powerful S Pen that comes with Samsung's large-screen phone. If you turn to your phone for photography, the Galaxy S series is usually first in line for Samsung's camera innovations.
Budget-minded shoppers will want to consider the $499 Galaxy A52 5G or the even cheaper Galaxy A32, . You can also find discounts on Samsung phones by buying directly from the phone maker and trading in your current device. Check out the best Samsung phone deals for the latest savings.
With the Galaxy Z Fold 3 and Galaxy Z Flip 3 now shipping, our attention can turn to future Samsung releases. The company has no plans to release a Galaxy Note 21 this year, and supply chain woes may have pushed the Galaxy S21 FE release into early next year, if it even shows up at all by this point. No matter the fate of that phone, we're certain to see the Galaxy S22 to debut in early 2022, offering upgraded cameras to take on the iPhone 13.
How we test Samsung phones
To find the best Samsung phones, we test the company's handsets the same way we test every smartphone we review. We run benchmarks on each phone, including synthetic benchmarks like Geekbench 5 and 3DMark to measure graphics performance. That allows us to compare Samsung device to other phones, including Apple's iPhone. In addition, we use real-world testing that includes a video transcoding test using Adobe Premiere Rush. 
In our lab, we measure the brightness of the phone's display (in nits), as well as how colorful each screen is (using the sRGB and DCI-P3 color gamut). In these cases, higher numbers are better. We also measure color accuracy of each panel with a Delta-E rating, where lower numbers are better and score of 0 is perfect.
To determine how long a Samsung phone's battery lasts, we have the phones continuously surf the web over LTE with their screens set to 150 nits of brightness. The average smartphone lasts for 10 hours, with the best phone battery life reaching 11 hours or more in our testing.
Our camera testing involves taking photos with each Samsung phone we review and comparing them to similar shots from comparable models.We take shots of landscapes, food, portraits and more, and also allow you to be the judge with side-by-side comparisons in our reviews. 
Source link